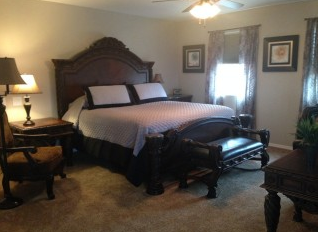 All our rooms include Satellite TV, DVD players, free wireless internet, refrigerators, hair dryers, irons & ironing boards and free laundry room accessibility (some rooms with washer/dryers noted below).
Rooms in the Main Manor House: Sunshine, Sunrise and Sunset Room-On the first and second level these large rooms each features a queen size bed and private bathrooms with showers. Enjoy a Spectacular Arizona sunrise or sunset in one of these rooms. Each room includes a sitting area. Free Laundry room accessibility. Our Main Manor House has small pets in residence.
Courtyard Rooms-Annex to the Main Manor House room options:
Guesthouse A and/or B– On the second level,The first section of this guest house (A) contains: 1 bedroom with a queen bed/1 full bath, living room, (overlooks the courtyard area), kitchen/breakfast nook. The living room features a full couch, loveseat and chair. The full kitchen (yes, even a dishwasher!) is stocked with kitchenware. Washer and dryer. Rent alone or add the second half guest house (B), which adds a second bedroom with a queen bed, another bathroom and a twin size bed in a den to total 1200 square feet. B may also be rented individually. Combining A and B is ideal for families or couples traveling together. Great for extended stays. If combining, call for rental for both units.
K-1 and K-2: Located on the second floor, these studio apartments include full kitchens (cook top only in k-2), a King size bed, dining area, living area/bedroom combined. Great for extended stays.
K-3: on the ground floor features a King Bed, kitchenette with full refrigerator and microwave, lovely sitting area with dining area, large walk-in shower.
Villa's 1,2,4,5-Each Villa contains its own living room with flat screen TV, kitchenette with full refrigerator, microwave, washers/dryers in villas 1&2, dining area, full bath (Villa 4, 5 have cooktop, a Jacuzzi tub and separate shower), bedroom with queen size pillow top mattresses, and patios. Great for extended stays.
Romantic / Honeymoon Suite (Villa 3)-All the amenities of a villa, with a larger living area, granite furniture, and Jacuzzi tub, fireplace with a private patio.
Romantic Hilltop Suite-On the second level, this beautiful open concept romantic suite overlooking the pool and beautiful scenery features a comfortable pillow top king size bed, a sitting room area with two leather loveseats in front of a cozy fireplace, with a satellite flat screen TV with DVD player, a dining area, a kitchenette with a full size refrigerator microwave. Relax in the large bathroom featuring a double sink, Jacuzzi tub, walk in shower with rain head. Step outside to your private veranda and enjoy the sun or the stars. Great for honeymoon, anniversary, or special getaway.
Tuscan Village Villas: BBQ, outdoor dining area overlooking the Pinal Mountain Range and a laundry room available
Tuscan Village Villas 6,7,8-Each Villa contains its own living room with flat screen TV, full granite kitchen, dining area, granite full bath, bedroom with queen size pillow top mattresses, (#6 has a king) and private patios. Great for extended stays.
Tuscan Village 9,10-2 and 3 bedroom (each with private baths for each bedroom) 2-story villas. Each Villa contains its own living room with flat screen TV, full granite kitchen , dining area, granite full bath, bedroom with queen size pillow top mattresses, (#10 has one king and 2 queen beds) Ideal for families or couples traveling together. Great for extended stays